Usage Tips
Some useful Pointers
EvoControl is a so-called custom skill, which means its voice-model is not based on any pre-defined template but was especially written to address the envisaged functionality. Because it's not a smart-home skill, your thermostats will not appear in the Alexa app as smart-home devices.
To use EvoControl, you have to first invoke it by name. If you use any other custom Skills then the process should be familiar.
We can differentiate between one-shot and session invocation — how they behave depends on whether your Alexa-enabled device has a display or not:
With a one-shot, while Alexa is idle you say something like e.g. Alexa, tell Smart Heat to set the system mode to Auto or Alexa, ask Smart Heat if there's heat demand. It's called a one-shot because it will just execute a single command and then the skill will exit. You could subsequently issue another one-shot or e.g. ask Alexa for the weather. Without a screen, the skill will always exit but if you have a display then there's a user-preference in the skill-settings to automatically transition EvoControl to session-mode after handling a one-shot.
To deliberately start a session, while Alexa is idle you say Alexa, open/start/launch Smart Heat. After the beep you can now issue back-to-back commands without first having to say the Alexa, ask Smart Heat… part each time. For example, Alexa, set the system mode to Auto or Alexa, is there heat demand?.
Remember that while you're inside a session, Alexa only handles commands intended for this skill so if e.g. you ask for the weather while a session is active, you'll get an error that "EvoControl cannot help you with that".
---
Confirmation
Note that each time EvoControl sends commands to the TCC cloud it looks for a confirmation message from Honeywell. If that confirmation is missing because e.g. the TCC service is temporarily offline, you'll be told to verify things on your Evotouch. If you launch the skill while TCC is offline you'll be told so and a link will be shown on your Echo's display to a Honeywell page to check for when it returns to service.
---
Undo
The Undo command is context-sensitive and can:
Undo a switchpoint-insertion when editing schedules by voice. If you say e.g. "Alexa, make it 20° in the Kitchen at 5 PM" and realise you meant the Bathroom and not the Kitchen, say "Alexa, undo" (and then of course issue the correct command).
Revert things after a

TemporaryOverride

command. If you say e.g. "Alexa, set the Office to 20° until 5 PM" and realise you meant the Kitchen and not the Office, say "Alexa, undo" (and then of course issue the correct command). This also works for multiple zones or Groups.
Revert things after incorrect scene/activity activation. If you say e.g. "Alexa, activate WatchTV" and realise you really meant to activate "GoodNight", say "Alexa, undo" (and then of course issue the correct command).
Undo a schedule-shift delay/advance.
---
Zone Name Matching
EvoControl uses fuzzy-matching to match your zone names as spelled for TCC against Alexa's expected spelling thereof. If you have a TCC zone called 'Master Bedrm' or 'Mstr Bedrm', Alexa will hear 'Master Bedroom' when you wish to address it by voice. Thanks to the fuzzy matching, the correct zone will still be addressed (it does depend to some extent on how 'close' your other zone names are). There should therefore be no need to rename your TCC zones to work with EvoControl.
If any of your zones have blank names (e.g. from a bound but spare HR-92) then they will be skipped over during discovery. The skill refers to these as ghost zones. If you cannot identify the source of your ghosts, the issue is probably an anomaly that incidentally occurs on Honeywell's end. Login to your TCC account, select your location and delete it. Then re-add it and the ghosts should be gone.
Sometimes, after making a call to Honeywell technical support (for whatever reason), Honeywell will completely reset your TCC account. This has the side-effect of reassigning your SystemID and/or ZoneIDs which unfortunately invalidates the oauth token you were assigned when you first linked the skill. If this happens, the skill will recognise the change and inform you that a re-auth from your Account Dashboard will need to be performed.
---
Alexa Routines
If you wish to have the skill automatically revert to baseline every day at (say) just after midnight, you can create a custom routine via the Alexa app to do something like this: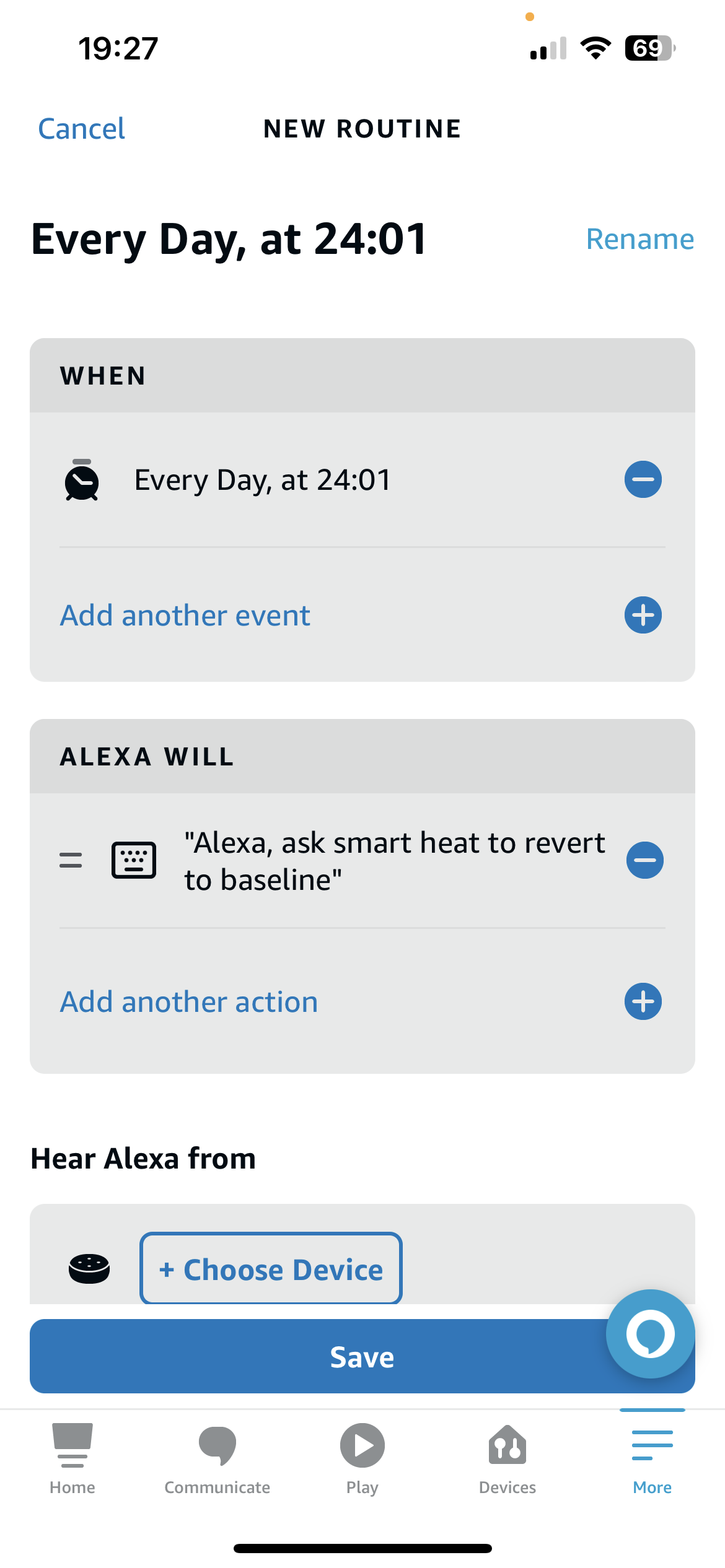 Just open the Alexa app and go to routines. Then hit to create a new routine. Under WHEN hit the for Add an Event, choosing Schedule and subsequently At Time. Choose the time of day at which the routine should run. Next, under ALEXA WILL hit the for Add an Action and choose Customised. Under Enter what you would ask Alexa, type ask smart heat to revert to baseline. Then hit Next and finally, Save. You can choose any of your Echos or the mobile device on which you have the Alexa app as the device from which Alexa will respond.
Just be mindful that any schedule-shifting applying to 'tomorrow' will be negated by this routine. If you regularly specify tomorrow-shifts, perhaps run this routine only on Sundays after midnight.
---
Widgets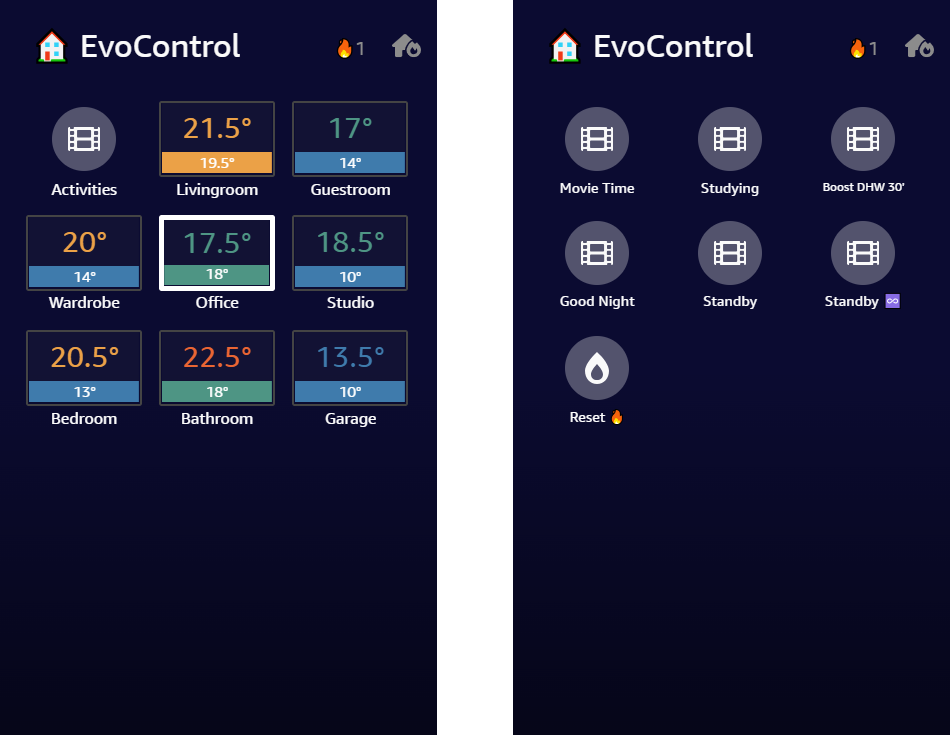 On any of your supported Echo Show devices, you can install 2 Widgets for EvoControl.

The first supports touch-activation of your scenes/activities. In addition to your regular 'Standby' activity, you'll see one named 'Standby ♾️' which automatically applies PermanentOverride to this oft-used feature. It also shows the DHW temperature and if any zones are calling for heat (when you have an RF/USB device connected). The second widget is a glanceable overview of the current state of your Evohome system.
If an activity name ends with 1-3 digits plus either an 'm' or apostrophe (shorthand for minutes) then the activity in question will be activated for that particular duration in minutes via a TemporaryOverride. There should be no space(s) between the digits and the m/'. Examples: HW Boost 20m, HW Boost 120', ShowerTime 15m. This only applies when the activity is triggered from a widget and not when triggered by voice or touch from the 'full' skill experience.
Note that there is no feedback to indicate whether an activity-trigger attempt was successful (a widget limitation).
Activities are normally not actionable when the System Mode is HeatingOff. You'll see this on the widget in the form of disabled/greyed-out activity names with strikethru. However, if the only item in an activity is Hot Water ON then this can be triggered (with Evohome, Hot Water is actually controllable in HeatingOff mode). In Away mode, everything is blocked.
The second Widget does not control anything but does show you an entire system overview when swiped into view. If you have a HGI-80 in use, any zones with heat-demand will have a white border to them so that they stand out clearly.
Note that both Widgets can launch the 'full' skill by tapping on their headers. Both also show an icon for the current system mode in the top right corner, and a symbol with the number of zones calling for heat when you have a HGI-80 in use.
---
Backup & Restore
Note that you can backup and restore the skill configuration from your smartskills Account Dashboard. This facilitates keeping a library of subtly different settings and swapping them out at will. The how-to is here.